In previous articles I wrote, that when doing your very own Personal Retrospective, it has to be in your personal way. But you may have asked yourself how it can work for you. To give you some ideas, I'll share the approaches of three different people: Linda Rising, Ilias Bartolini and myself.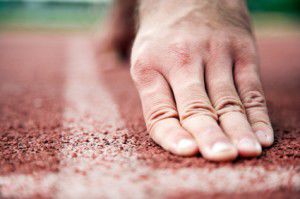 A retrospective has to be "tailor made" as Derby and Larsen [1] point out. This is in my opinion even more important for personal retrospectives. They need to fit to your thinking, your needs and your timetable. However, it is good to start with something - and over time adapt it to your own needs. I have done this, and probably everyone doing personal retrospectives is doing it.
So here are three approaches you can derive and mix and match from.
Write, Re-Write and Read Retrospective Notes - Linda Rising
For Linda Rising[2], a well-known retrospective facilitator, personal retrospectives are an important tool, to know about herself. She writes:
The cognitive psychologists tell us that it's difficult, perhaps impossible, to really know ourselves and why we make the decisions in our lives. Our only hope, it seems to me, is to use some of the same techniques that we use to discover what teams have done well, what they might think about doing differently, and what still puzzles them :-)!
After finishing an activity she thinks she might do again, she will think about that activity and note her thoughts on paper. She usually does this right after finishing the activity while traveling. When she arrives at home, she will type the notes and safe them into a folder called "Retrospective".
__Before she will start doing a similar activity, she will read though the retrospective notes to prepare for it. She noticed, "that many of the lessons learned become internalized over time, but there are always surprises - things we have completely forgotten".
On activities Linda shares with her husband - like traveling or going to a music workshop - he is joining in to the retrospective. On the way home, they talk about their experience and Linda takes notes of it. Arrived at home, she will send him an e-mail to give him the opportunity to add his comments. When they do a similar activity again, they'll read the retrospective notes together.
All this writing, re-writing and reading is not without a purpose.
Cognitive scientists tell us that writing is important so I always write or sketch first and then type to save. Going through the comments twice also helps with learning – and that's what it's all about :-)!
Shared Feedback MindMap - Ilias Bartolini
Ilias Bartolini[3], my colleague and coach at ThoughtWorks University[4], has an approach centered around a mind map. He started with his self-review in the beginning of 2012, with a small mind map. He collected the data of what happened in 2011 both for work and life related aspects. The mind map grew and evolved over a couple of weeks - having the mind map always open on his laptop and capturing any important thought, when it came to Ilias' mind.
An important part of this mind map is the feedback Ilias received from friends and colleagues. But then he moved one step further: He shared the result of his personal retrospectives with the people who gave him feedback. Seeing their feedback was recognised encouraged them to give more feedback to Ilias. They supported him in his efforts to change himself and gave input how he can implement the feedback they gave.
In his blog series about his approach to self-reviews ([5], [6], [7] and [8]), Ilias tells us, that this approach helped him to create an epiphany of what happened in his year 2011. Doing the self-review gave him self-confidence and helped him to improve his effectiveness. Most of it, because he started to understand what really matters at his work and at his life.
He internalized this approach so much, that he is constantly applying it. Recently, he put parts of his mind map onto a whiteboard and asked his colleagues to give their comments to it. Here is what he got: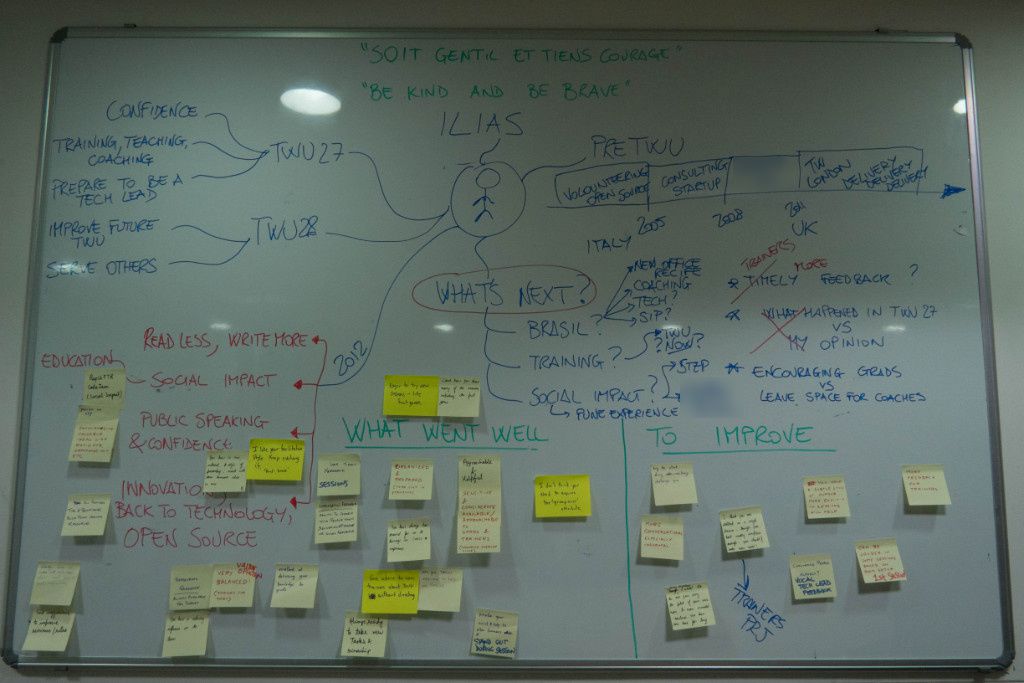 Currently Ilias is perpetually changing his feedback mind map. When he receives new feedback, he will update the mind map. This is his way, to keep track in which areas he needs to work on himself. But more important, it gives him confidence by clearly documenting what he already has archived.
I find going back to the mind map summary very useful in many more situations!
Building on top of Retrospective Practices - my own approach
In 2008 I listen to the excellent Software Radio Episode 105 "Retrospective with Linda Rising"[9]. I was excited about potential retrospectives could unveil inside a team. But at this time, I was a student and had no team were a retrospective could be hold. However, in the beginning of the episode, Linda told that she believed, everyone should have a retrospective of their own. It sunk into my brain and stayed there unused for a while.
In mid 2009 I graduated and got my first programming job. I started to work, moved to a new city and met new people. All was going as planned. But I was not clear about what my next goal in life would be. Up until this point, my whole life was working towards this very point. But what to do next?
This became clear to me shortly before christmas, as I told it to my father. Telling it someone, made something explicit to myself. But I suppose it has been in me quite a bit earlier. Consequently, I decided to do a year-end retrospective for 2009.
I bought some nice food, drinks paper and coloured crayons and blocked 4 hours in my calendar on a Sunday afternoon. Then I created a timetable of the retrospective practices I wanted to do
Create a timeline of the year 2009 and then make your feeling towards the events visible with colors.

Make notes and later write an essay about: 'What works well', 'what to do differently', 'What did I learn and what puzzles me'

Make a mindmap of the result of the retrospective.
I executed the plan - and was very delighted with the outcome. It really helped me to see things in my life, I did not notice before. On this day, I started to understand more about myself - and I did set goals for myself and selected action items to reach these goals.
One action item was to make personal retrospectives a ritual every three month. Six month later, during one of these quarter-retrospectives, I decided to do a heartbeat retrospective every week. I have adapted the way I do retrospectives and the scheme of having them since. I'll write about this in a different article.
There are more possibilities
There are hundreds of more ways to do personal retrospectives. I've talked to someone, who travels home by train for one hour every day. Instead of reading or listening she spends the time reflecting about her day - having a retrospective every day.
Aisley Nies[9] takes some time around her birthday every year and travels somewhere. She gets "away from everything" and spends some time thinking about herself.
You can also read the retrospective reports from Aimee Daniells [10] and Mark Neeham [11] on their blogs. This gives you a hint, how they did their own personal retrospectives for the year 2011.
What about you?
Have you started or scheduled your own personal retrospectives? How will you make personal retrospectives work for yourself? What hinders you to start?
Please leave a comment or blog about it and drop me a link. I'm very interested in the different approaches.